As a new basketball season begins it's fun to make some predictions. I suppose it's a concrete way to demonstrate your knowledge or just to show off a bit of "Magic". To start us off I've make a list of some of the very best all-time athlete predictions. Here we go, and not necessarily in any order.
I'll start with something a bit retro. "Four, Four, Four" was the prediction Moses Malone made way back in 1983. This wasn't a boastful prediction as it could be said that Moses was the most dominant player ever over an entire NBA season. In that year the Philadelphia 76rs had gone 65-17 with a team that included Julius "The Doctor", Erving on it's roster. Yup Dr. J himself. Putting the situation in perspective their rivals across the country, the Los Angeles Lakers had won the last two Championships and "Magic" Johnson and Kareem Abdul-Jabbar were in their prime. This was the era of Laker "Showtime" but also the era of "Celtic Pride" in Boston.
That year Moses was bigger, faster and harder working than anyone in the NBA, a giant at the peak of his powers. He also didn't talk much to the media, and he wasn't required to do so. He hardly ever said anything to the medai and when he did he mumbled. So when these three simple words were uttered, and better yet understood, they were quickly broadcasted around the world. "Four, Four, Four" meant that the 76s would sweep all three rounds of the playoffs and win the NBA title.
Moses Malone actually said "fo', fo', fo' in a deep, low sounding growl, and this contrasted starkly to the voices in my high school, who shouted "seek zers" (in heavy Filipino accent) down the hallways. The 76ers along with Dr.J, Andrew Toney, Maurice Cheeks and Bobby Jones all helped to back up Malone's boast. They did loose one playoff game so the prediction wasn't perfect, but then then neither was Malone's pronunciation. "fo', fiv', fo' also sounds pretty good as well.
We all remember that in 2011 the Dallas Mavericks won the NBA Championship with a skinny but lightning quick Jason Terry providing much of the scoring punch. What many of us didn't realize is that he tattooed an image of the NBA Championships on his right bicep in the preseason of that season.
And it wasn't a perfect season, as the Dallas Mavericks placed third in the Western Conference with a record of 57 wins and 25 loses. Terry himself admitted that he'd remove the tattoo if they didn't win the championship. It was said that his teammate, DeShawn Stevenson, himself heavily tattooed, would often preach. "Men, let's not let JET go down in history as that dope who got a tattoo of the championship trophy and then got it removed."
The fact remains that Terry was driven and committed to his vision throughout the entire season. He played all 103 games and would average more than 15 points and 30 minutes per game. That year the Dallas Mavericks would remarkably jell together during the playoffs behind the play of the legendary big German, Dirk Nowitzki. His signature and often emulated one legged step back jumper can be found on playground courts the world over.
This last one comes from the sport of baseball and it's messenger was Mike Blowers. Now this guy also had a pretty decent baseball career himself but he's made his mark as a sports psychic. The Seattle Mariners, play in Major League Baseball or the "Big Leagues" of American professional baseball and 2009, Blowers was their radio announcer when we made "The Call of the Year". He made his strange prediction before the game started: Rookie infielder Matt Tuiasosopo would hit his first Major League home run against Toronto. That's pretty good, but what is really weird is that he gets very specific and goes on to predict that that Tuiasosop would hit the homer in his second at bat of the game. On a 3-1 pitch. Off a fastball, into the second deck.
The neat thing is that it's been captured digitally. It's best if you hear it for yourself. Here's the AUDIO.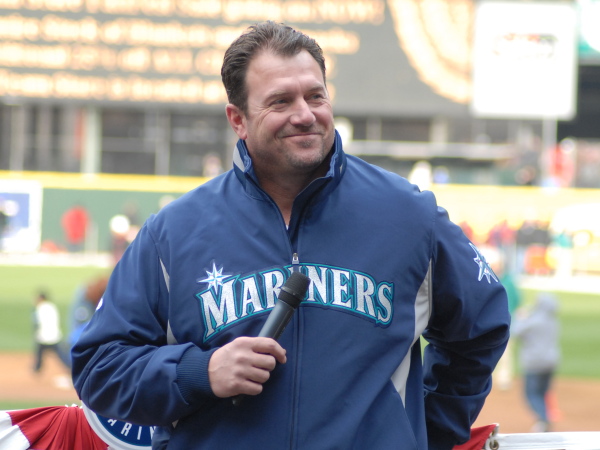 This guy is either specifically optimistic or perhaps he can see into the future. I think it just goes to show you that if you have a bit of knowledge you'll be able to amaze your friends, just call it "Magic"!
So what's your prediction this year? Personally, I'm predicting a championship season for DED, not much of a prediction if you know the team. Stay tuned for my NBA and NCAA basketball picks.